Seit der Besichtigung von Hochzeitslocations in 2018 und einigen Reisen, um die Hochzeit zu planen haben wir einige Tips für Strände, Restaurants und Hotels, schöne Chiringuitos, Beach Clubs, Wanderungen und schönen kleinen Läden gesammelt, die ich gerne mit Euch teilen würde. Los geht's...
Since scouting locations in 2018 and going back multiple times for planning and details, we have collected tips for beaches, activities, day trips, restaurants, hotels, the nicest chiringuitos, a few hikes and beautiful shops that I'd like to share with you. So here you go...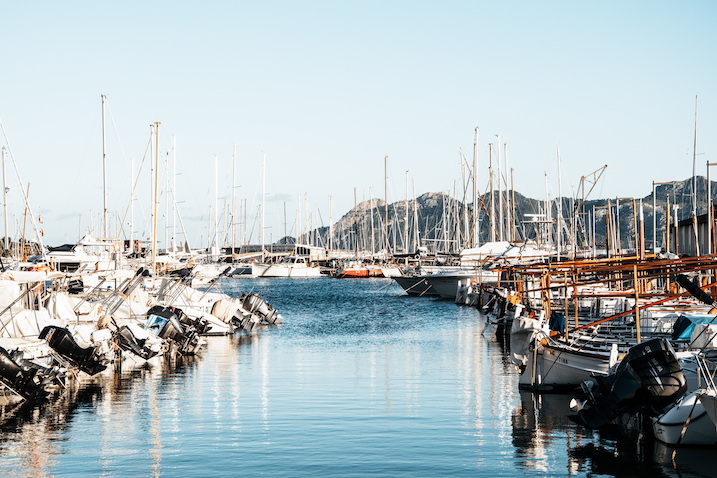 Die Altstadt von Palma, die Kathedrale La Seu und Santa Catalina sind ein Muss.
Make sure to have a look at the old town of Palma, the cathedral La Seu and the neighborhood Santa Catalina with all its restaurants and bars.
Ein kleines Dorf in der Nähe von Sóller mit vielen Treppen und schmalen Gassen. Ein sehr süßer Ort.
A little village close to Sóller with lots of small alleyways and stairs. A very cute place.
Ein wundervolles Dorf in der Serra de Tramuntana mit vielen hübschen Restaurants, Cafés und wundervollen kleinen Hotels. Sonntags ist Markttag.
A wonderful village in the Serra de Tramuntana with pretty restaurants, cafés and wonderful little hotels. Sunday is market day.

Ein schönes Dörfchen mit Bergen, versteckten Cafès und Restaurants, sehr chicen Hotels und einem wundervollen Chiringuito am Strand.
A picturesque village in the mountains, hidden cafés, restaurants, very chic hotels and a wonderful chiringuito on the beach.
Ein kleiner Ort im Herzen des Serra de Tramuntana Gebirges. Ihr könnt auch den süßen kleinen Zug von Palma nach Soller nehmen. Hier könnt Ihr mehr Infos dazu finden. 
A little village in the heart of the Serra de Tramuntana. You can even take the train here from Palma. Click here to get more infos about that.
Um ehrlich zu sein, sind die Fahrten durch das Landesinnere von Mallorca am schönsten - von Ost nach West, von Süden nach Norden. Die Insel ist so viel vielfältiger als ich jemals gedacht hätte. Der weite Blick, die Sonnenuntergänge, die Felder mit Schafen und Ziegen, Palmen, Pinienbäume, Olivenbäume, Plantagen mit Orangen und Zitronen, die Fincas und fancy Beach Clubs, Tapas Restaurants, Paella, türkises Wasser, lange Strände und rustikale Chiringuitos direkt am Strand.
Honestly, driving around the countryside of Mallorca is the best - from East to West, from South to North. The island is much more diverse than I would have ever thought. The vast views, the sunsets, fields with sheep and goats, palm trees, pine trees, olive trees, plantations with oranges and lemons, fincas and fancy beach clubs, tapas restaurants, paella, turquoise water, long beaches and rustic chiringuitos by the beach.
Das Cap de Formentor ist der nördlichste Punkt Mallorcas und bietet einen fantastischen Ausblick auf das Meer. Die Fahrt lohnt sich definitiv, aber Achtung - im Sommer gibt es strenge Zufahrtsbeschränkungen zwischen 10 und 19 Uhr. Während dieser Zeit gibt es Shuttlebusse in Alcudia und Pollenca, die Ihr nehmen könnt. Hier findet Ihr genauere Informationen.
The Cap de Formentor is the northern most point of Mallorca and has impressive views over the ocean. The drive is definitely worth it, but note: in Summer there is a strict access restriction between 10 a.m. and 7 p.m. During that time there are shuttlebusses from Alcudia and Pollenca, that you could take. Find more information here-
Das Botanicactus ist ein Kakteenwunderland in Ses Salines - für alle Kakteenliebhaber und Wannabe- Instagram-Influencer. Ich liebe Kakteen und fand es einen wundervollen Kurzausflug auf dem Weg zum Strand. Mehr Infos hier.
Botanicactus is a cactus wonderland in Ses Salines - for all cactus lovers and wannabe instagram influencers. I love cacti and thought this was a wonderful short trip on the way to the beach. More infos here.
Fast jeden Tag ist irgendwo auf Mallorca Markttag.
Die schönsten Märkte sollen in Sineu (mittwochs), Artà (dienstags), Llucmajor (Mittwoch, Sonntag, Freitag - an Freitagen Trödelmarkt), Santanyi (Mittwoch, Sonntag), Santa Maria del Cami (Sonntags).
Almost every day of the week there seems to be a market somewhere in Mallorca. The prettiest markets are supposed to be in Sineu (Wednesday), Artà (Tuesday), Llucmajor (Wednesday, Sunday, Friday (on Fridays flea and antique market), Santanyi (especially for interior fans - Wednesday, Sunday), Santa Maria del Cami (Sundays).
Für uns sind die Wanderungen am besten, die als Ziel einen wunderschönen Strand oder ein abgelegenes Restaurant als Belohnung bieten. :) So ist es auch bei der Wanderung von Deiá runter zur Halbinsel Na Foradada. Beginnend beim Landgut Son Marroig, wo übrigens auch ein super Chiringuito ist, um den Sonnenuntergang zu sehen (siehe unten). Ihr müsst am Landgut Son Marroig parken, am alten Landgut vorbeigehen und ca. 300 Meter weiter muss man über einen Eselzaun kletten und dann immer dem Weg entlang wandern. Manche Blogs schreiben es dauert 2,5 Stunden hin-und zurück. Ich glaube wir haben ca. 30-45 Minuten pro Weg gebraucht. Man sollte darauf vorbereitet sein, dass man auch wieder hochwandern muss :) und vorallem vorher im Restaurant Sa Foradada reservieren! Alternativ kann man auch Bootstouren zum Restaurant buchen. Falls Ihr Interesse an Wanderungen habt, findet Ihr hier und hier einige Routen.
For us, the best hikes are those that end at a magnificent beach or remote restaurant. :) This is the case for the hike from Deiá down to the peninsula Na Foradada. The hike starts at Son Marroig, where the Chiringuito with amazing sunset views is (see below). You have to park at Son Marroig, pass the old house of the estate and approx. 300 meter left of it climb a donkey fence and then walk along the road. Some blogs say it takes 2,5 hours there and back. I believe it took us 30-45 minutes each eay. Please be prepared to walk up later on and don't forget to make a reservation at the restaurant Sa Foradada. Another option is to book a boat trip to the restaurant. If you are interested in hiking, you can find some routes here.
Wir haben noch nicht alle empfohlenen Strände besucht und natürlich generall nicht alle Strände auf Mallorca gesehen, also ist es schwierig zu sagen welches die schönsten Strände sind. Also folgt eine Auswahl von einigen der angeblich schönsten Strände Mallorcas. Bitte beachtet, dass zu manchen dieser Strände eine Wanderung oder einige Treppenstufen führen. 
We have not visited all of the recommendations and of course not all beaches in Mallorca, so it is hard to say which beaches are the prettiest. Hence, here is a list of some of the allegedly prettiest beaches :) Please note that you need to hike to some of these beaches or take a few steps.
Calo des Moro - Osten/East
Calo Llombards - Osten/East
Playa Formentor - Norden/North
Cala Agulla - Osten/East
Sa Calobra - Norden/North
Es Trenc - Süden/South
Platja des Muro - Norden/North
und jetzt diese und andere Empfehlungen sortiert nach Region
and now these and other recommendations sorted by region
Cala Figuera
Cala Pi de la Posada
Platja des Muro
Playa Formentor
 Port de Soller
Sa Calobra (hike!)
Son Serra de Marina
Playa es Coll Baix (hike!)
Cala Torta
Cala Murada
Cala Santaniy
Cala Mesquida
Cala Agulla
Font de Sa Cala
Cala Varques
Cala Sa Nau
Cala Llombards
Cala Mitjana
Caló des Moro
Cala S'Almunia
Cala Mondragó
Cala S'Amarrador
Cala Màrmols
Cala en Tugores
Es Trenc
Cala Pi
Playa de Marques
Delta
Portals Vells
Cala Illetes / Cala Comtessa
Costa de la Calma
Es gibt so unendlich viele Hotels, Fincas, und Airbnbs auf Mallorca. Während der letzten Aufenthalte waren wir im Ca's Papa in Valldemossa; ein sehr süßes Hotel mit fantastischem Blick über das Dorf, in diesem wundervollen Airbnb in Sineu, in einem alten Hotel in Palma und im Bikini Island & Mountain Hotel in Sóller. Bei unserem nächsten Aufenthalt testen wir die Lazy Finca und ihre VW Camper. Außerdem wurde uns das Portixol Hotel empfohlen.
There is a vast variety of hotels, fincas and airbnbs in Mallorca. During our last stays, we stayed at Ca's Papa in Valldemossa; a very sweet hotel with fantastic views over the village, a cute airbnb in Sineu, an old hotel in Palma and at Bikini Island & Mountain Hotel in Sóller. At the end of July we will test the Lazy Finca and their camper vans. Also we were recommended the Portixol Hotel.